The annual Florida Open Pistol Shooting Tournament is held every February in Frostproof, Florida and hosted by the Universal Shooting Academy. Champion shooter, Frank Garcia, is the Match Director, as well as the host of the competition. 400+ shooters will compete in the "20th" annual Florida Open in 2018. February 15-18, 2018.

 You can expect some exciting new additions and traditional throwbacks to celebrate 20 years of the Orange Man and the FLORIDA OPEN!!
MATCH INFO:  11 Stages / 300 rounds / plus chrono / lunch included!
Registration will open at the end of August – CLICK HERE TO REGISTER
International shooters will need to email me for a personalized invitation letter. SmittyFL@Gmail.com
Deadline for withdraw with refund is Jan 22! As a rule we always offer refunds at our matches but we are almost full for the weekend and I'm turning people away now. So I won't be able to offer refunds after this date unless I can fill the slot. Thank you for understanding.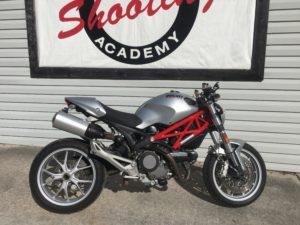 As appreciation for 20 years of your support of the FLORIDA OPEN we will be giving away this 2009 Ducati Monster 1100 to a registered competitor. Details to follow but every competitor will be entered!!